Pellet Feed Production Line
Model

SZLH250

SZLH304

SZLH350

SZLH400

SZLH420

SZLH508

Capacity(T/H )

0.5-1.5

1-3.5

3-5

5-8

8-14

6-20

Power (kw)

22

30/37

55

75/90

90/110

110/132/160

Screw feeder power (kw )

0.75

0.75

0.75

1.5

1.5

2.2

Conditioner power (kw )

2.2

2.2

2.2

4

5.5

7.5

Pellet size

2-18mm
Features:
1: Grinding, mixing, pelleting, cooling, crumbling and packaging are integrated.
2: reasonable process, compact structure and small area occupation, low investment and quick returns.
3: It's suitable for livestock, poultry and aquatic product farms to produce feed the raw materials can be wheat, corn, maize, bean, rice husk.
4: There are manual and fully-automatic complete feed set.
5: particle constituents of uniform, the surface is smooth, diameter can transform between 1.5-6mm (die) needs to be replaced, length can be adjusted between 5-20mm, and the particle density, for easy storage and transport, suitable for a variety of cultural objects in different period of need.
Continuous and reasonable process flow in our Pellet Feed Production Line:
l Raw material storage system of poultry feed plant: Silo
l Pre-cleaning system of poultry feed plant: Pre-cleaner
l Crushing system of poultry feed plant:
SFSP model Hammer Mill
l Proportioning system of poultry feed plant: Batch weighed, Rotary distributor, Batch bins
l Mixing system of poultry feed plant: Mixer
l Pelletizing system of poultry feed plant: Ring Die Pellet Mill
l Cooling system of poultry feed plant: Cooler, cyclone
l Sieving system of poultry feed plant: Grade sifter
l Packing system of poultry feed plant: Packing scale
Whole feed set includes raw material feeding and pre-cleaning,grinding system,pellet system,packing system.

We equip liquid adding system for it,it can add moisture,molasses, lipid in feed. Designed simply from crusher to packing machine , contains crushing, mixing, pelletizing , screening and packing parts. such as crusher, mixer, pellet mill, cooler ,screener, packing machine and all bins, conveyors ect .

In raw material receiving and precleaning system,we use pulse dust collector,granular drum sieve,powder sieve,tubular magnet and conveyor equipment to clean up impurities of grain,and convey raw material to grinder to be crushed.

In mixing system,we use double-shaft high efficient paddle mixer,which could mix material with high homogeneous mixing degree (CV≤3~5%) and short time(45~60s).The spraying system (spray nozzle & fittings) is on top of mixer can meet light and heavy bulk density materials mixing,improve the liquid atomizing and prevent from agglomerating
420 pellet feed production line
In pelleting system,we adopt our key product SZLH ring die pellet mill.It makes 2-8 mm diameter feed pellets. such as 2-4mm diameter chick feeds and pig feeds.1.5-3mm fish feed,2-5mm rabbit feeds,4-8mm cattle or sheep feeds.The machine mosaic rotating roller and large diameter ring dies can make materials fully cured and pellets smoother.The formation rate can reach 98% and the friction can down to the bottom.Key parts are made by our CNC system,through high technical heat treatment,which is high precision and quality.Pellet feed will be delivered into counter-flow cooler to be cooling down after being pellet,then enter into crumbler.Big pellet will be crushed to small pellet,small pellet and powder will enter into pellet mill again to be made into pellet by rotary screener.

In packing system,after crushing by crumbler,appropriate size pellet feed enter into finish product bin to be packed. We equip automatic packaging machine and bag sewing machine to weigh and pack final product.

In auxiliary system,we equip air compressor and steam boiler according to quantity of compressing air whole set need and capactiy of pellet mill.If the mixer is installed in a relatively high position,we equip additive basket to ensure accurately put the additive.

This four are simple small pellet feed mill plant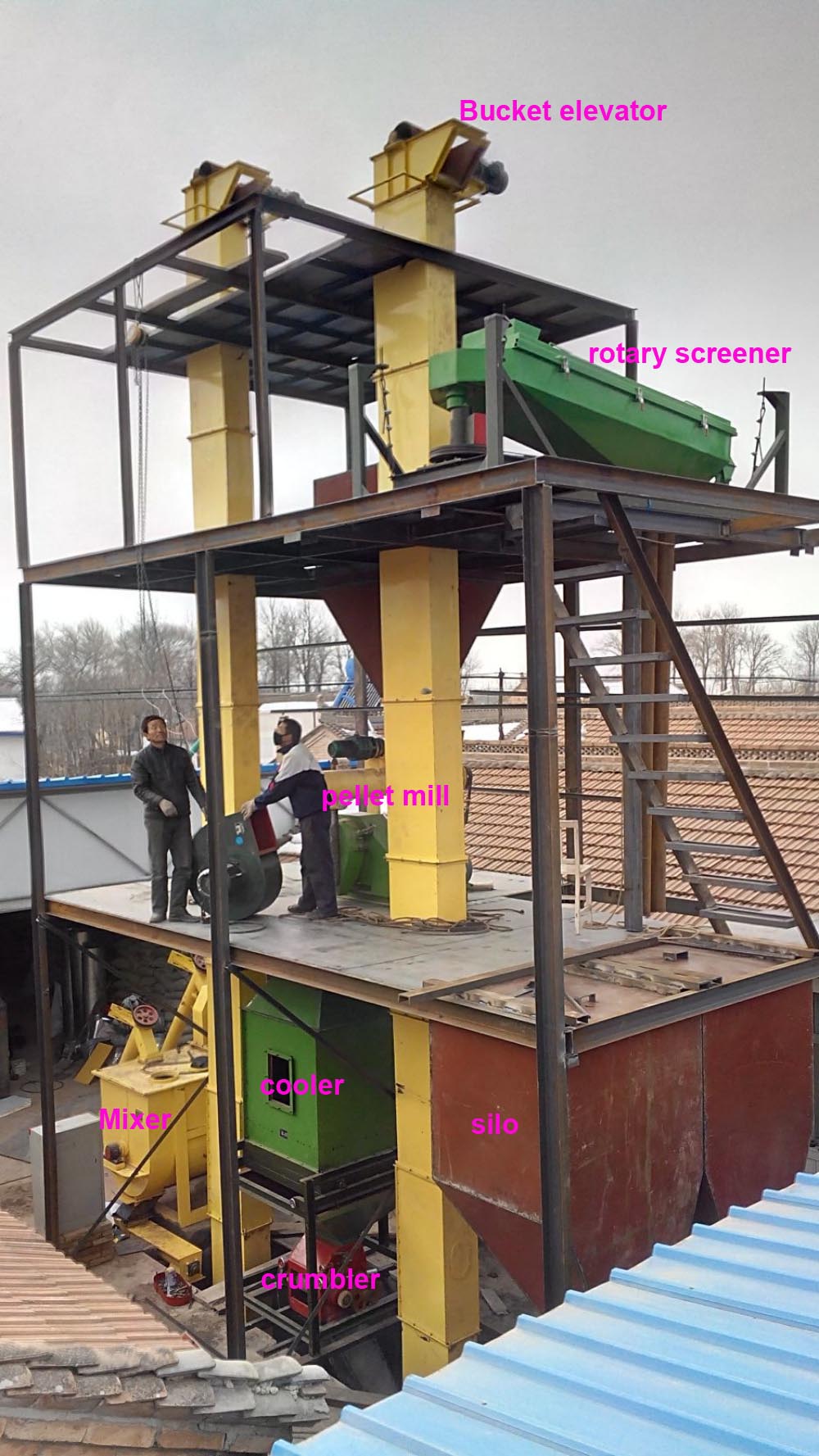 1.Are you manufacturer,yes or not?
Answer:Yes,we have been feed machine manufacturer for 23 years,and it will be longer.Now we are capable of producing not only feed machines but also biomass machines and mineral stone processing machines.
2.Can you accept the customized plan? Can you simplify my plan for reducing costs?
Answer:Of course,our brilliant engineers are waiting for it all the time.
3.What's your MOQ?
Answer:Generally speaking,one is okay,but larger quantity ,lower price.
4.What do I need to know to build a feed processing plant?
Answer:You just need figure out the following questions:
(1)What animal do you want to feed? the animal amount?This is used for confirming the production capacity and feed type.
(2)What raw materials you have?material size?material moisture?
(3)Any special demand?


Our engineers will provide customized plan for you. Thank you for your trust. Welcome to contact with us at any time!
If you need our machine please advice the following detail information:
1, The capacity you need per hour?
2, Your raw materials?
3,The moisture of your raw material?

Contact us
What's your raw material,feed formula and capacity requirements?We can customize production line according to your demands.