Pingdingshan customized simple powder feed unit delivery
Author:Animal Feed Block Making Machine updatetime:2019-05-22 Clicks:12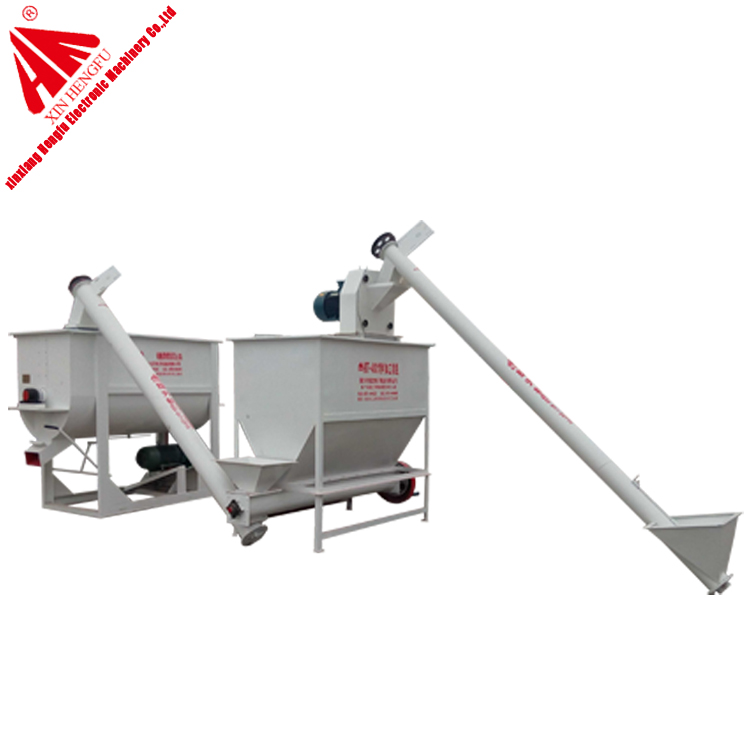 The unit is mainly equipped with 56*36 type water drop hammer mill and 2 tons vertical mixing tank. According to the actual processing needs of customers, the Z-type magnetic separator is selected, the iron removal efficiency is 95%, high-strength permanent magnet, magnetic field. The intensity is up to 3500 Gauss.
On the other hand, the unit is also equipped with two screw hoists, four 140*4.5 hoists, one of which requires a diameter of 165, which is also important to the farmers.
The crushing chamber of the 56*36 type drip mill is a water droplet type, which eliminates the circulation and truly achieves a second strike, which can improve the pulverization uniformity and output. The pulverizer can be used to pulverize corn, wheat, sorghum and other cereals. It is not suitable for pulverizing materials with high fiber content. Because of its high yield, it is usually used for crushing operations of large-scale farms or feed processing plants. It can be used alone. However, it is often used in conjunction with other feed machines (feed mixers, feed pellet machines).
The vertical mixing tank has a wide range of use. It is commonly used as a small pulverizing and mixing integrated feed processing equipment. It integrates vertical lifting, mixing warehouse and horizontal conveying. It has a simple and compact structure, one-time small investment, economical and practical, and convenient maintenance. It requires special production sites and other advantages. It is a special feed mixer for breeding. It can process 1 ton of feed in 15 minutes. It is fast and popular among thousands of professional farmers.